Candidatas a Miss Universo durante desfile na The Week - SP
Miss Grécia


Beldades mostraram desenvoltura na passarela na noite deste sábado (3).

89 candidatas disputam na segunda (12) o título de mais bela do mundo.
Do G1, em São Paulo



Candidatas ao Miss Universo participaram de um desfile em uma balada paulistana na noite deste sábado (3). As beldades mostraram desenvoltura na passarela, com centenas de fãs na platéia. 89 candidatas disputam na segunda-feira (12) o título de mulher mais bela do mundo. (Foto: Raul Zito / G1)




Miss Venezuela mostrou toda a sua beleza e o 'tanquinho' definido na passarela neste sábado, durante desfile em São Paulo. (Foto: Raul Zito / G1)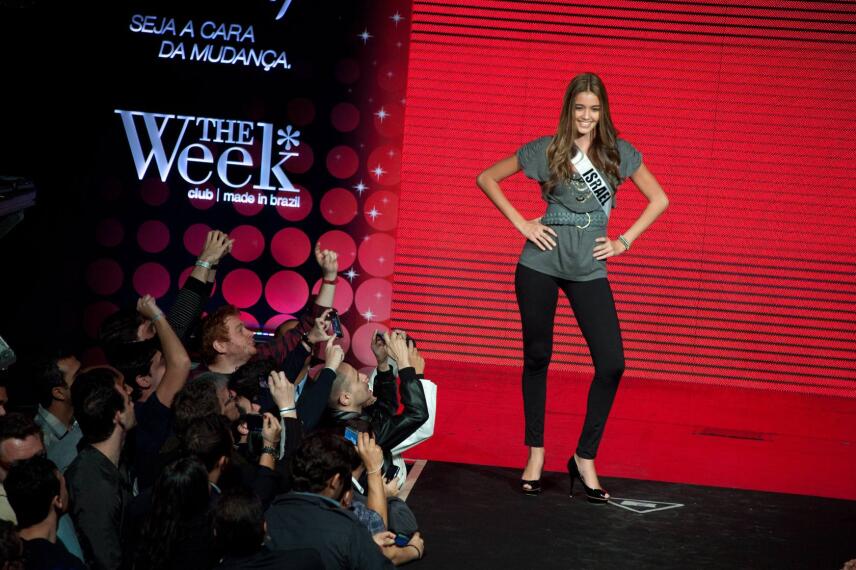 ego.globo.com





Misses Brasil, Japão e Venezuela agitam desfile em boate

04 de setembro de 2011 • 01h18 • atualizado às 01h52









Miss Brasil foi uma das misses a participar do evento

Foto: Léo Pinheiro/Terra




NATHÁLIA SALVADO
Direto de São Paulo
Na madrugada deste domingo (4), as 89 candidatas ao título de Miss Universo 2011 mostraram sua desenvoltura na passarela. O palco escolhido foi a badalada boate The Week, na Lapa, em São Paulo.




O público que lotava a pista de dança, elegeu suas favoritas e ovacionou a Miss Brasil, Priscila Machado, a última desfilar. As Misses Japão, Venezuela, Colômbia, China e Japão foram as mais aplaudidas.






A Miss Albânia, Xhesika Berberi, foi a primeira a entrar na passarela e teve uma recepção fria, com pouquíssimos aplausos. Porém, foi só a angolana Leila Lopes apontar no palco, que a animação começou. Com roupas casuais, quase sempre calças jeas e blusas amarradas, com a barriga à mostra, elas entravam na passarela, anunciadas por Ximena Navarrete e André Almada, empresário que comanda a casa noturna.
Com direitos a muitos beijinhos e jogadas de cabelo, elas encantaram o público e levavam ao delírio três homens na lateral da pista, que faziam corações com a mão, pediam telefones e levavam as mãos ao rosto, em sinal de completo desespero pelas beldades.

Algumas misses receberam comentários bem-humorados de André Almada. Quando a Miss Egito entrou na pasarela, ele logou lançou: "não faz a egípicia". A Miss França também não escapou da brincadeira: "não faz a Gisele". Aferdita Dreshaj, de Kosovo, ganhou um comentário mais contido: "nossa, ela é linda".

Porém, ninguém inovou tanto quanto Maria Kamiyama, do Japão, que com os cabelos bem armados, fez caras e bocas, recebendo gritos calorosos da plateia, cada vez que levava as mãos aos longos fios.

http://diversao.terra.com.br
*****
Clique em "Postagens mais antigas"
No final da página, à direita!
More photos ?
Click "Postagens mais antigas" at the bottom, right!