After a ten-year gap the beauty pageant is returning, but online only – now even the tackiest satellite channels have rejected it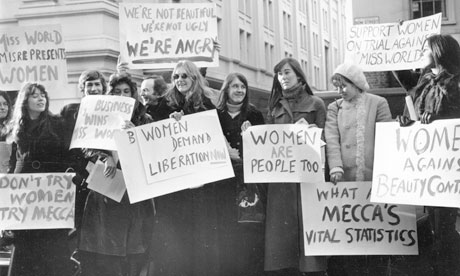 The
protest
in 1970 against the Miss World beauty pageants in London was a galvanising moment in the women's liberation movement. As the host Bob Hope asked the contestants, "Girls, will you turn around?" in order for the judges to get a 360-degree view of them in bikinis, he was pelted with tomatoes and flour by feminists, five of whom were subsequently arrested while chanting: "We're not beautiful, we're not ugly … we're ANGRY!"
On Sunday, Miss World returns to London 23 years after disappearing from our primetime screens, as does the feminist protest against it. The demonstration will feature a "freedom trash can", which led to the myth of the early "women's libbers" burning their bras. In 1968, feminists protested outside the Miss America pageant, encouraging women to bin items thought to be symbols of oppression, such as bras and girdles, makeup, pots and pans and high-heeled shoes. The organisers had planned to set fire to the bin but were stopped by police.
Much else has changed since the final was first held in London in 1951 and in some ways the protestors can already claim a victory. Despite reaching audiences of 30 million viewers in its heyday, ITV dropped the pageant in 1988 following a sustained feminist campaign in the 70s and 80s. It returned to our screens when it was shown live on Channel 5 in 1998 and 1999, and then by ITV in 2001 before disappearing into the oblivion of satellite TV. This year you can only watch it online, as it has been rejected by even the tackiest satellite channels.
The fact that it is not being screened even on satellite TV is a feminist victory of sorts, proving that there is a decreasing market for a world in which young women are paraded like cattle as their vital statistics are read out. With luck, the protest will do the same for the increasing tolerance for the hyper-sexualised appearance of women and girls as well.
The protest will take place on 6 November from 3-5pm outside Earls Court Conference and Exhibition Centre, London SW5 9TA