Excerpt of original. This film shows scenes from the 1963 National Governor's Conference, held July 21-24 at the Hotel Deauville in Miami Beach, Florida. The film begins with scenes of a pressroom with reporters hard at work. It then shifts to shots of George Wallace, Alabama; Farris Bryant, Florida; and Nelson Rockefeller, New York, interspersed with shots of the entire meeting table, reporters, photographers, cameramen and Florida Highway Patrol officers directing traffic. There is no sound up to this point. Next, the film shows a press conference with California Governor Pat Brown. This section has poor sound. In the next segment, George Wallace mentions "so-called civil rights" in a press conference. Nelson Rockefeller speaks next, followed by several shots of a televised conference, a dinner with everyone wearing Panama hats, and a dinner with Governor and Mrs. Bryant. During this segment, Governor Bryant shows Miss Universe, Iêda Maria Vargas of Brazil, a model of the Florida Pavilion to be built at the World's Fair and gives her a set of water skis. The film ends with shots of a nighttime gala where Vice President Lyndon Johnson enjoys some dancing.
To see full-length versions of this and other videos from the State Archives of Florida, visit
http://www.floridamemory.com/video/.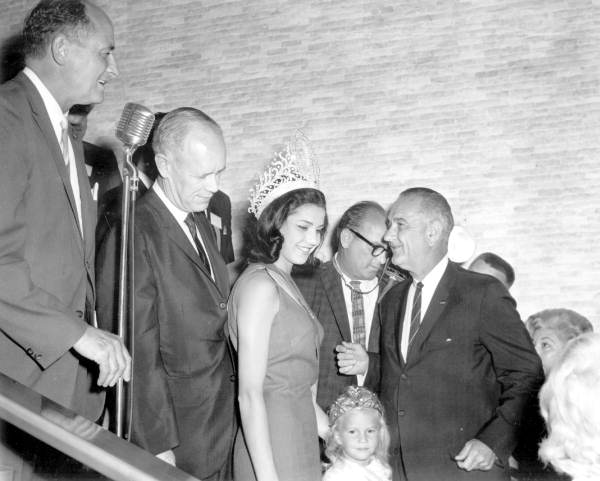 RC19359
Miss Universe meeting Vice President Lyndon B. Johnson at Governor's Conference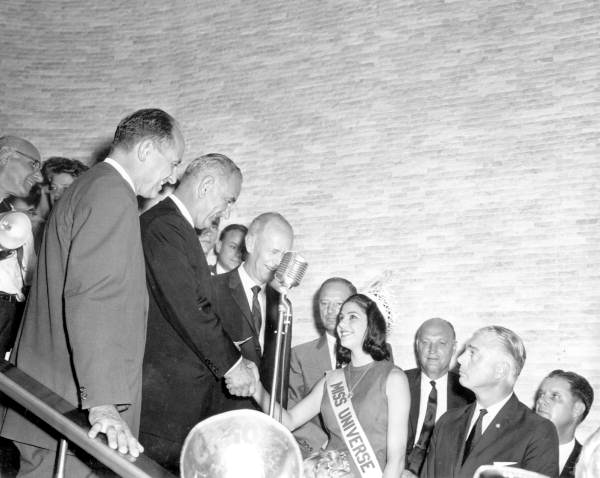 RC19358
Vice President Lyndon B. Johnson meeting Miss Universe - Miami Beach, Florida