Text
By Jason Chow
Natalie Keyssar for The Wall Street Journal
Luo Zilin, left, in Times Square.
China's push for international accolades has brought it a top tennis player, countless Olympic golds and an economy that now ranks No. 2 in the world. Could the next trophy be from a beauty pageant?
The Wall Street Journal's Jo Piazza yesterday profiled Luo Zilin, the current Miss China and the country's Miss Universe entrant. Ms. Luo is "training" in New York for the pageant, which takes place next month, learning the finer points of etiquette and small talk.
Miss China Paints the Town Red
3:21
Aiming to become her country's first-ever Miss Universe, Miss China is in New York taking a crash course on Western manners.
The training regimen is the brainchild of Yue-Sai Kan, a 61-year-old, Chinese-born, American television celebrity. She's been on several series that have aired on PBS, Discovery and China's CCTV network, created a line of beauty products targeted for Chinese women. She's also written such books as "Yue-Sai's Guide to Asian Beauty."
Ms. Kan's assistance to Ms. Luo could be motivated as much by patriotism as business — Ms. Kan owns the Miss Universe pageant rights in China.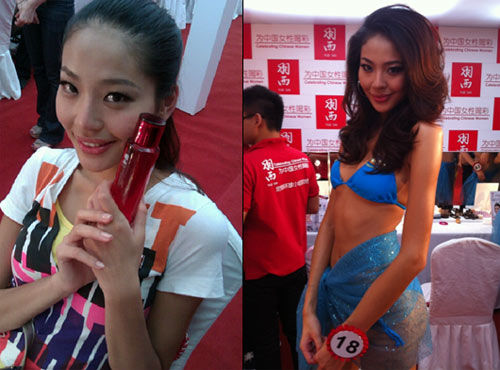 If the 24-year-old Ms. Luo is looking for inspiration, perhaps she should unearth clips of Miss World, a rival pageant that China has won in the past.
Zhang Zilin, a former secretary from Hebei province, donned the tiara in 2007 and did so without perfecting her English, which is what Ms. Luo is attempting to do in her final training days in New York.
China's beauty pageant scene is young — they were banned until 2003 — but has flourished in recent years. The country has seen greater success at Miss World than the Donald Trump-owned Miss Universe franchise, hosting Miss World finals five times since 2003, including last year's pageant in Sanya.
However, China's involvement in Miss World hasn't been without controversy. The British newspaper Daily Mail suggested last year that China influenced the judging and chose American Alexandria Mills over Norwegian Mariann Birkedal. The newspaper quoted unnamed sources who speculated that judges were pressured by their host country to shut out the Norwegian candidate because of the country's feud over the awarding of the Nobel Peace Prize to jailed Chinese dissident Liu Xiaobo. The Nobel Prize is based in the Norwegian capital of Oslo.
http://blogs.wsj.com