By Jerome Sawyer, Miss Bahamas Organization
Nov 16, 2009 - 4:08:55 PM




Nassau, Bahamas - In the weeks leading up to the start of the Miss World competition, she was ranked at #71 out of 113 contestants. A day after arriving to London, she climbed to 62nd place. However, after making an impressive showing at a string of Miss World events, Joanna Brown now sits in the 22nd spot on the Global Beauties leader board, jumping by a whopping 40 points in one swoop. "I think I have only seen a jump like this once before and that was in Miss Universe after the preliminaries with Kosovo," says Global Beauties publisher Patrick Tripoldi. "Miss Bahamas is one of the MOST talked about contestants!" adds the website's moderator Pasquale.
Global Beauties is one of the world's most respected pageant portals. Each year, it publishes its "Hot Picks" list for the world's Grand Slam pageants – Miss Universe, Miss World, Miss Tourism Queen International, Miss Earth and Miss International. These lists are based on the votes of participating judges who watch the contestants every move during the competition. The Global Beauties leader board is highly anticipated by pageant fans worldwide who use it as a measure of who is doing well and who is not.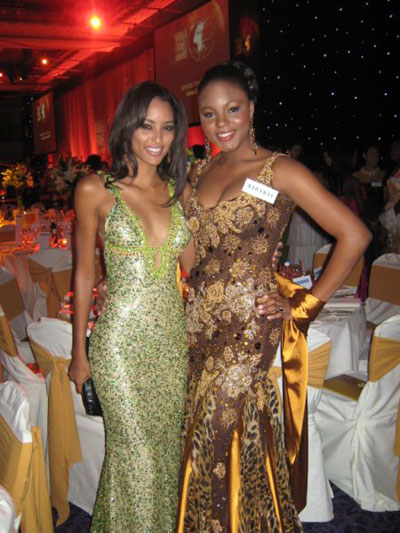 Since arriving in London on November 6th, Joanna has been testing her mettle against the world's most beautiful women from over 100 countries. Fresh off a three-week training and grooming regiment with her stylist/coach Bobby Ackbarali, she arrived in the U.K. full of confidence while maintaining an air of sophistication and her sweet, modest demeanor. This combination, along with a killer wardrobe, was enough to capture the eyes of pageant watchers worldwide. According to Mr. Tripoldi, he and other judges are enamored with Miss Bahamas World. "She is stunning!" he says. "She made such an impact at the Charity Awards dinner, we could not stop talking about her. She personifies everywoman! What a beauty you guys picked." Global Beauties experts had ample time to take a good look at Joanna during the Charity dinner, as her auction gift proved to be one of the most popular of the night. Her gift of an all expense paid 7 night stay at Sammy T's Beach Resort in Cat Island as well as roundtrip airfare for two (courtesy of British Airways and Cat Island Air) was one of the highest revenue generating items of the night.
However as Mr. Tripoldi explains, it was Joanna's showing during a three day trip to Abu Dhabi that began to set her apart. "I have to tell you that her performance and appearance in Abu Dhabi impressed so many judges, she instantly came up 40 points," he said. "Her skin is flawless. Her face is captivating. I have never seen such a goddess in a gown - any gown." Mr. Tripoldi was especially impressed by Joanna's incredible wardrobe. "Whether it be the white gown at the Charity Dinner, the Gold Brocade for the Travel Awards, the perfect designer piece in A.D., she is the epitome of "woman"!" He went so far as to make a bold prediction. "For me personally, she is MY Miss World 2009. In my opinion, it is a three way race between Joanna, Leah from Barbados and Magdalena from New Zealand. They have the "it" factor and it is time for Miss World to crown a black woman again. I also think Thanuja from Malaysia, Luciana from Brazil, Zeynep from Belgium and Perla from Mexico are outstanding."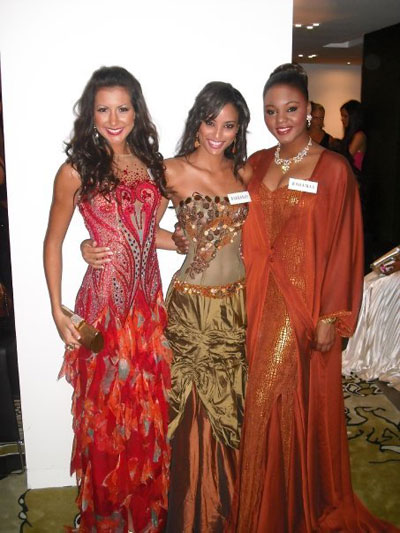 The contestants are now in South Africa where this year's pageant will be held on December 12th. Joanna has already made the semifinals in the Talent competition – a fast track to the pageant finals for the winner – and is looking forward to doing equally as well in other fast track events like the Sportswoman Competition, Beauty with a Purpose, and Top Model. If she advances to the Miss World finals or better, she would become only the second Bahamian woman to do so. That distinction now solely belongs to Jody Barbara Weech who earned the Queen of the Caribbean title and a semifinal placement in the 1992 Miss World pageant.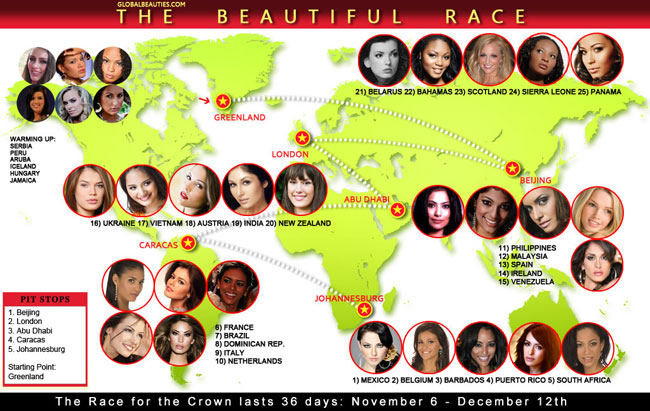 http://www.thebahamasweekly.com